Compact and Portable SEM
The EM-30Plus is the highest resolution Benchtop Scanning Electron Microscope (SEM) available on the market today providing the best price/performance ratio. With a number of unique capabilities, the EM-30Plus is the most versatile Benchtop SEM.
Benchtop SEMs have come a long way since their re-introduction in 2005. Gone are the days when these compact SEMs used to be limited in accelerating voltage, resolution, selection of apertures, detectors and analytical capabilities.
Previously the luxury of multiple detector selection, better electron optics and higher analytical accuracy was only available on full size SEMs which not only needed significantly higher investment but was also only accessible to experienced electron microscopists.
The EM-30Plus breaks those barriers with excellent electron optics design and 30kV maximum accelerating voltage delivering better than 5nm resolution and high analytical accuracy. In addition a range of optional detectors can be installed. All of this while maintaining incredible ease of use!
» Accelerating Voltage: 1kV to 30kV
» Magnification: 150,000 x
» High vacuum imaging: SE, BSE, MIX
» Motorised stage as standard
» Unmatched detector selection
» Best in class capabilities
» Best price/performance ratio
» Resolution: < 5 nm
» Low vacuum imaging: SE, BSE, MIX
» Joystick and software control
» Mini Map for navigation
» Motorised tilt with crash protection
» New BF, DF STEM option!
» Contact us to learn more
Sputter Coater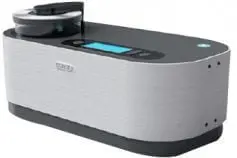 The SPT-20 is an easy to use digital Sputter Coater used for Benchtop SEM specimen coating. It has a touch screen controller and delivers stable coatings using the sputtering current feedback function. Multiple target options are available.