Trade-in your old AFM (any brand) and get an attractive discount on the new AFM from us.
Concept Scientific Instruments was founded by a team of experts with more than 20 years of experience in Atomic Force Microscopy. CSInstruments employs a qualified and dynamic team with expertise in mechanics, electronics and data processing. This expertise ensures innovation and performance in the production of AFM and helps achieve an excellent price/performance ratio.
The activities of CSInstruments focus on incorporating innovation and quality in the development and design of AFM, assisting researchers in academia and industry to achieve excellent results in their projects. CSInstruments offers an impressive product range designed and manufactured with precision to achieve ultrafine performances in nanometre range that meet the research needs and requirements for current and future nanoscience applications. NanoTechnology Solutions is the exclusive distributor in Australia and New Zealand.
Nano-Observer
High Resolution Atomic Force Microscope (AFM)
The Nano-Observer uses an advanced flat scanning stage to avoid well known defects of the piezoelectric tube scanner such as bow, X-Y crosstalk etc. A low noise feedback control delivers reliable and high performance. A patented flexure stage with 3 independent low voltage piezoelectric devices mounted in a massive platform and combined with a low noise laser and electronics achieves high resolution measurement at atomic scale.
Scanning Microwave Impedance Microscopy (sMIM)


Scanning Microwave Impedance Microscopy (sMIM) is a new mode of imaging using AFM. This mode measures the electrical properties of materials at length scales from 10's of nanometers to microns. sMIM modules produce high quality images of local electrical properties with better than 50 nm resolution.The core of our technical approach is to utilize microwave reflections from a nm scale region of the sample directly under the sMIM probe.

Silicon FinFETs

High Definition Kelvin Probe (HD-KFM)


Standard KFM

HD-KFM with Nano Observer AFM

Traditional KFM is based on the lift mode or double-pass technique which results in loss of resolution and signal sensitivity.

The Nano-Observer can uniquely offer single-pass High Definition KFM mode to highly enhance the resolution and increase the sensitivity of the surface potential.

Switch between advanced Modes without touching the hardware!
Same probe, same location !
Quality Measurements
POLYMER CRYSTALLISATION under temperature control
Through a smart choice of analog and digital processing, each signal is enhanced to avoid addition of noise and perform a fast feedback. The scanner is controlled by 24-bit D/A converters providing high precision scan to the Atomic Force Microscope (AFM). A built-in lock-in for accurate topography, phase or MFM/EFM/KFM and PFM measurements is coupled with low noise electronics to acquire highly resolved images and spectroscopy.
Expand your capabilities for different environments
The Nano-Observer is a modern AFM designed by experts at CSInstruments to serve advanced applications. The unique design of this instrument makes it highly powerful, versatile and suited to a range of environmental conditions such as gas, humidity control, temperature control and to liquid imaging. In addition, large optical windows have been installed making the Nano-Observer a perfect instrument for use in optical setups or couplings such as Raman, photovoltaics and IR illumination.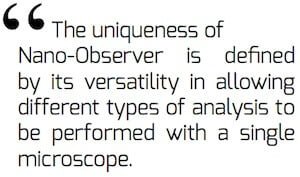 In addition to performance, the Nano-Observer is capable of several advanced modes which expand your field of investigation. Beside Contact/LFM and Oscillating/ Phase imaging, several modes are available to characterise mechanical viscoelasticity, adhesion of your samples as well as
electrical properties (CAFM, ResiScope)
, electric and magnetic fields (MFM/EFM) and surface potential (standard KFM or HD-KFM). 8 real-time image channels are available to increase capability of analysis.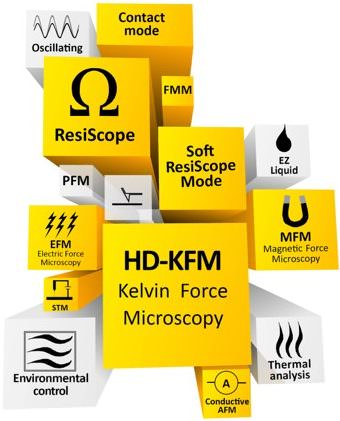 Compact and robust, the Nano-Observer fulfils the requirements for advanced users or beginners. It avoids laser alignment with the pre-positioned tip system. A top and side view of the tip/sample, combined with vertical motorised control, makes the pre-approach easy. Simple positioning can be done by combining the optical access with the X-Y translation stage. 
Top and side views
A video color camera is provided with the AFM offering a helpful view from the top for tip/ sample positioning or side view to make the tip/sample approach easier.
» Sample/tip visibility
» Ease of use
» Avoids damaging sample or tip
» Better contrast by lateral illumination
Top and bottom illumination
» Bottom illumination can be used for Photovoltaic apps (bottom illumination + conductive measurements from the top)
» Bottom illumination can also be used to get better optical contrast for Biology (higher contrast / transmission)
» Top illumination is used for cantilever positioning