Conventional tensile testing provides information on the tensile and compressive strength of a material but no information on physical changes to the internal structure while under load. In-situ tensile testing and heating/cooling allows dynamic microstructural observations and can provide new insights into materials research. Systems are specifically available for use with Optical Microscopes, Raman Spectroscopes, Atomic Force Microscopes (AFM/SPM), X-ray diffraction (XRD), X-Ray Microscopy (XRM), Micro X-Ray CT (μXCT) and Synchrotron beam lines; most stages (other than those for XRM) can also be used on the benchtop. All stages are available with optional three & four point bending clamps and are controlled from comprehensive Windows software via USB. NanoTechnology Solutions supplies, installs and supports these stages all over Australia and New Zealand. Contact us to discuss your specific requirements and integration into your existing imaging instrumentation.
200N Tensile, Compression and Horizontal Bending Stages
MICROTEST 200N stages have been specifically designed to allow real time observation of the high stress region of a sample with an optical microscope, AFM or Raman system. With dual threaded lead screws the centre of the specimen stays centrally located. Loadcells from 2N to 200N cover most applications, with extension rates from 0.1mm/min to 15mm/min. All stages have linear scales for elongation measurement and optical encoders for speed control. Windows software sets drive parameters and displays the stress/strain curve live on the computer screen. Options include three and four-point bending clamps, fibre clamps and microscope mounting adaptors. Stages are controlled from our Microtest tensile testing software and special versions can be manufactured to customers' requirements.
Standard 200N stage
The 200N tensile stage uses standard miniature loadcells in the range 2N to 200N. Samples are mounted horizontally, clamped to a pair of jaws and supported on stainless steel sliding bearings. A dual threaded leadscrew drives the jaws symmetrically in opposite directions, keeping the sample centered in the field of view. The 200N module is ideally suited for use with an SEM, optical microscope or AFM and will easily fit on most stages. Custom versions are available with heating/cooling, extended specimen length and stage travel.
200N stage with Petri dish 
A version of the 200N stage is available to test specimens while submerged in a liquid (as shown on the right). Specimens are pre-pared and mounted to the jaws away from the stage and then moved across on a special transfer jig. As an option a peltier temperature controller can be fitted to set the liquid temperature between 10°C and 50°C. Observation of the specimen would normally be by optical microscope fitted with a submersible lens.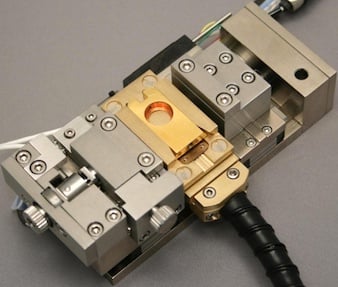 200N stage with Peltier heating & cooling 
The heating and cooling version of the 200N stage has been designed to provide temperature control from -20°C to +160°C. A temperature controlled pad is located directly under the specimen and temperature is set using a small peltier element. System control and water cooling is from the Deben Coolstage control system which has a self contained water chiller and allows accurate temperature control with either keypad or PC control.
200N MEMS stage with Piezo control 
The piezo version of the 200N stage has an additional piezo motor fitted which allows very fine movement with step sizes as small as a few nm. Designed primarily for manipulating miniature MEMS devices in the SEM this stage can be used for various applications and can be customised for specific specimens.
Dual Leadscrew 2KN/5KN tensile testing stage for XRD & Synchrotron
The dual leadscrew stage has been designed to allow both transmitted and reflected illumination and can be fitted to an XRD system or Synchrotron beam line. Supplied with feet the stage can stand vertically like a conventional tensile tester. With the feet removed adaptor plates can be fitted to allow mounting to a rotary table or to allow it sit flat on a bench or optical microscope stage.
Versions with maximum loading to 2KN or 5KN are available, with optional user exchangeable loadcells of 200N, 500N, 3KN or 1KN.
Systems can be supplied with chambers for in-situ gas and liquid experiments as well as temperature controllers and either heated or heated and cooled specimen clamps with a variable temperature range of -150°C to 550°C.
Sample clamps are removable allowing easy customisation and the fitting of special clamps for different samples. Fibre clamps, three and four point bending clamps and clamps to hold specifically shaped specimens are available.
Jaw extension is measured using a capacitive extensometer with 300 nm resolution, motor speed is regulated with optical rotary encoders fitted to the motor and force is monitored using an industry standard temperature compensated strain-gauge loadcell. Strain rates from 5 μm per minute to 4 mm per minute by selecting the appropriate exchangeable gearbox.
Control of the system is from the comprehensive Microtest tensile stage software to provide a graphical display of force against extension or time and an extensive array of additional control functions.
Deben can supply a range of different stages for Bi-axial and Quad-axial tensile testing. Whatever your requirements Deben have a solution for your application, we have a standard 2kN stage and can manufacture other custom systems with different forces from 50N up to 100kN.
Bi-axial testing stage
Deben bi-axial tensile stages can be used for bi-axially stretching sheet material such as textiles, including leather, and also various polymers. Two axes move and the opposite axes track on slides, for a full four axes system consider our quad-axis testing solution.
The tensile stage allows engineers and scientists to study the effects of bi-axial force upon various materials. Systems may also be used as a uniaxial tensile stage if so required.
These stages are made to order but we do have some standard designs, contact us with your requirements. We make systems with very high force (up to 100kN) or miniature systems for bio-medical applications.
Quad-axial testing stage
The 4x 2kN quad-axial tensile stage has been developed for benchtop and SEM in-situ use. The stage has four independently controlled axes with separate motors, extensometers and loadcells. This stage is available as a standard or custom system, if you are interested please contact us with your exact requirements.